This post was part of the #12DayGiveaway
Today is the fourth day of the 12 Days of Christmas Giveaway series – Small Biz Essentials.  Read on to find out how you can pre-schedule a lot of your blogging tasks & enter to win 2 months of Co-Schedule.
#12DayGiveaway
During the giveaway I'll share with you tools & resources online business owners use to run their business. And, I'll be giving away a copy of the tool I use to random commenter (see more details at the bottom of this post)
This post contains affiliate links....
Note: This post contains affiliate links (disclosure). If you choose to purchase a product after clicking through one of my links I may earn a few dollars. There will never be any additional cost to you, and I'm very grateful when you do! Thanks
Read on to find out how you can pre-schedule a lot of your blogging tasks, using coschedule.
I chose CoSchedule because…
If you've been around a while you know I'm not a huge fan of signing up for anything with a recurring monthly payment. Instead, I prefer to keep my operating expenses really low & really do think seriously about anything that even costs $10/mo. Because, the reality is, it's a slippery slope. One tiny $10/mo payment is $120/year. Sign up for a few and you're quickly adding thousands extra to annual expenses. I guess the point is, that I really do take the time to think about each monthly subscription I sign up for. And if there is a free alternative, I'll use that first. Co-Schedule is one of those tools I tried out for a couple of weeks last year & then found an alternative solution. I tried a 2 month free trial of Edgar, the free plan with Nimble, buffer & hootsuite. Then in November I decided to take Corbet Barrs blogging challenge & at the same time noticed CoSchedule was offering another 2 week trial for past users. I sent in a request to extend my trial & they responded within an hour or so.

I'm so glad I did.
There are still a few things I'm doing the old way:
like using my WP editorial calendar to write really quick drafts, without opening up the entire wordpress post editor
and scheduling some of my posts directly in Facebook because I want to tag FB users & can't do that from the co-schedule dashboard.
But the majority of my blogging tasks have been made much, much easier by using this tool.. Making the $120/year is a complete no-brainer. Although, I'll likely end up paying far less. They have a referral program as well as savings for writing a blog post (like I'm doing here today)
Here are a few things I'm loving about Co-Schedule
Bulk scheduling
When I had a promotion running – BlackFriday Post, I was able to schedule out 20 messages
Insight
I can see how many people shared or interacted with each post. Both from the post dashboard, and the overview within cochedule dashboard.
Checklist Template
Creating a checklist template…. This is the template I'm currently using 
Move Post & Promo together (with drag & drop)
If for some reason you need to move a post to another day, but you've already created /scheduled your social media shares, there's nothing to worry about. Just drag the post to a new date, and all of the social media shares attached to that post move with it
Share old posts
I used to use "tweet old posts" plugin that brought up random posts from the past. I think I still have a couple of automated online tools that are pulling in something at least once a week, but with CoSchedule I can click on this button & sort by date, popularity, etc & bring old posts back to life again. I'll probably set aside time once a month (or quarter) to preschedule this kind of post. (include screenshot)
Not just for scheduling promos about blog posts
I'm not only using it to schedule promote about specific blog posts, but also other link posts or text posts like:
freebie finds I like to share
affiliate promotions
quotes & inspiration
reminders about sales & promos in my shop
It's not just for blog posts, but I believe it will completely remove my need for my hootsuite account.
Helps engagement in Facebook Groups that I manage
Last weekend I wrote out some questions I'd like to ask of Biz Training Club members. Instead of writing a to do list to remember to post them daily, I scheduled them into CoSchedule.
It's really easy to use:
At the bottom of your normal WordPress post editor you'll see a new section with a bar that reads "Create First Message". This is linked to any social media group or page you've connected in your initial setup. Like, Twitter, Facebook, Google +pages and Linkedin accounts (you can add multiples from each service).
Click on the accounts you want to send your message out to.
CoSchedule populates the post with title and url for the post you've just created.
Add any extra text you'd like to include
Choose when you'd like your posts to go out
Click save and you're posts are ready to be sent  (Tweets, FB posts, Google or Linkedin – all with one click)
See it in action in this CoSchedule promo video:
I know some people who:
Promote on social media every 3 hours for the first 3 days
Then continue to send out three a day for the other 4 days.
Then once at a weekly interval and then once monthly.
If you have a heavy promotion schedule like this (I don't – not yet anyway), I can see this being even more beneficial…
Things I wish coschedule could do:
reschedule a post.  If I've written a good snippet & want to re-post it in 1 month, 3 months and 6 months, I would love to be able to click a "reshedule" button.
something that would work similarly to "revive old posts"
open up a post draft without opening the post editor (like I'm doing right now in WP Editorial
had a quick add button for chrome (similar to quickly adding something to my buffer feed)
an android app
Wrap up:
I'm not saying you should sign up just because I like it. If you don't have plans to blog often, I don't think it's really necessary. But if you find yourself blogging regularily. If you're in your WordPress dashboard regularly, then definitely take the 2 week trial and see if it saves you time & money too.
CoSchedule has graciously donated a 2 month subscription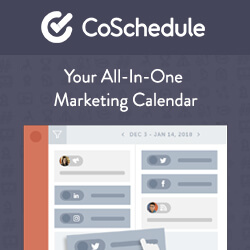 The Simple, Affordable,

Everything

Plan
Unlimited Users
Unlimited Social Accounts
No Hidden Fees
Free Support
Free For 14 Days
To enter the contest:
Leave a comment below.
If you want an extra entry, share this post with a friend and ask him/her to say you referred them. 1 entry for them, and an extra one for you.
On December 24th I'll draw a random name (through random.org) from the comments left on this post, to select a winner of 2 months of Co-Schedule Please feel free to add your favorites in the comments below. Happy Holidays!

p.s. remember to come back tomorrow to see what I'm giving away next.